at the end of a line
let it begin again
it is a dream before birth

The advance of happiness

— Andrew Crozier, High Zero
The Hi Zero reading series began in 2011. The readings took place at The Hope (now The Hope & Ruin), a pub to the south of Brighton Station on Queen's Road. This same establishment had been one of the homes (alongside Coachwerks) of the Chlorine reading series run by Frankie Lisette. Over its ten-year lifespan, Hi Zero hosted readers from the UK and across continents. It's obviously not possible to do justice to almost ten years-worth of readings in a short piece of writing, so what follows is a brief overview of the series' beginnings, and its life in general.
In 2010 I had begun to discover some of the "scenes" of the current poetry that would come to matter to me. Even in a time of online accessibility I found a lot of the windows to be opaque. I remember Joe Luna passing me the details of a reading in a warehouse in Tottenham. I was unfamiliar with instructions like these: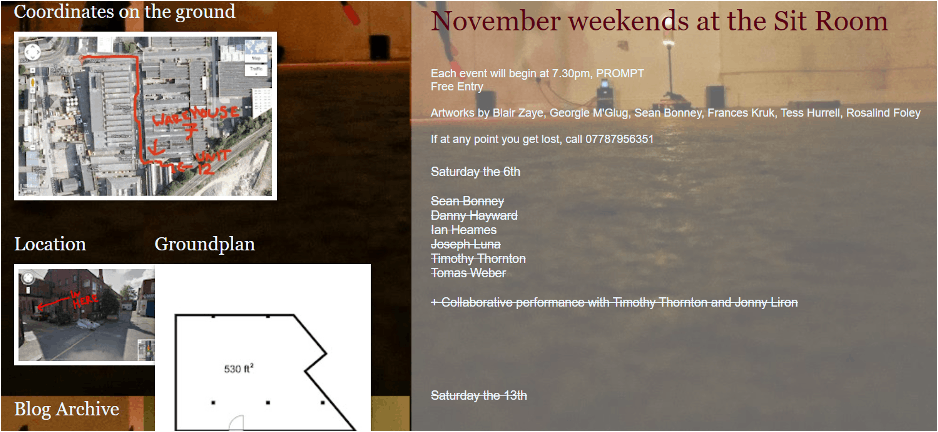 This is common when first accessing any culture that mostly operates without much money, which is by necessity opportunistic. It is a good thing. It was, though, a relief when I saw that Joe had set up a reading in Brighton. I remember quite clearly arriving at the Hope and listening to the readings. Encountering demanding poetry. Difficult poetry. I didn't feel as if the the poems were locking me out, rather that they wanted more of me. More time, more dedication and absorption. I found it baffling and exciting. I bought all of the books and magazines that I could and carried them around with me everywhere. I decided I would go to every Hi Zero reading.
Hi Zero was supported by the University of Sussex's Centre for Modernist Studies, and this is an important dot on the map of the series' origin story. Alongside its responsiveness to the poetic culture of Sussex (and affiliation with the annual Sussex Poetry Festival) it is right to recognise a much wider web of poetic cultures that came to nest, solidify and also entropy around the series. Throughout the 90s and early 00s the advent of the internet meant poets from often localised and disparate locations could start to publish and communicate in new ways. The poetry I'm talking about is peppered with often contentious labels: Neo-Modernist, Linguistically Innovative, Experimental, Late Modernist, Nu Textual Transparency, etc. Through the new relative ease of circulation, journals like QUID (eds. Andrea Brady & Keston Sutherland) and Jacket (ed. John Tranter) began to publish with a wider reach, crossing supposed / mythologised cultural borders and also advancing their tendrils across continents and through dialogue and translation.
It's worth speaking about some of the poetic currents that breathed directly into Hi Zero's lungs. In the early 2000s there was a seismic slide in poetics within some of the scenes I've clumsily umbrella'd above. This mirrored a fairly rapid geopolitical shift with the election of George W. Bush Jr and the invasions of Iraq and Afghanistan (see, for example, the Barque Press anthology 100 Days, 'an anthology responding to the first 100 baleful days of the Bush administration'). These events caused a rush of poetic activity, marked by its often direct and urgent (as well as abstract, tangled, and deranged) responses. By the 2010s this energy and focus had changed and morphed. As the Conservative / Liberal Democrat alliance rolled out their punitive austerity programme, poets began to respond intimately to these particular repressions and the crisis that had been weaponised in order to bolster them. I encountered much of this poetry in the first year of Hi Zero readings, particularly at the sixth reading (August 8th, 2011, while riots burned through London) where eleven poets (Tomas Weber, Nat Raha, Jefferson Toal, Jonny Liron, Linus Slug, Sarah Kelly, Steve Willey & Alex Davies, Anna Ticehurst, Francesca Lisette, and Josh Stanley) read in quick succession. These were mostly poets living in London at the time. What struck me was an enormous range in style and approach, an attention to performance and delivery, and a sense that though many of these poets were doing very different things there was an underground cohesion; something to be pushing hard against – a sense, in police speak, that they were all "up to something". Of course, these roughly characterised scenes were in no way all that was happening at these readings. It felt, to a novice, that there was a strong recognition of various histories and traditions; the curation of the events followed paths back as well as carving new ones.  
Over the years the series ran the land has shifted. The early readings were fairly well attended, but there was a feeling of a dedicated specialist audience. As time went on, the link with the university became more settled and Hi Zero became a place that students would come as both audience and contributors. Hi Zero also established serious links with other parts of Brighton's culture, most obviously with experimental music and free improvisation. Hi Zero hosted a variety of performances ranging from music, music and poetry collaborations, and physical theatre / dance. Perhaps the most performative 'happening' of the series was the famed Christmas bash, where a longer lineup of poets would read and perform in succession. On one such occasion the night was relocated to the club venue underneath the now demolished Sticky Mike's Frog Bar – the event climaxing in an ecstatic performance of East 17's 'Stay Another Day' by DJs Florence Warner and Josh Cook.
Poetry has changed over the lifespan of Hi Zero. There are more readings and there are more presses. There are perhaps more poets, too. Readings where lots of poets read shorter sets has become something of a norm, and this has made me realise that something I valued greatly at Hi Zero was the attention to space and time. Poets generally read for around twenty minutes with fairly long breaks between each reading. This engendered quite a vital moment of agency for the reader. They may seem like fairly simple and obvious conditions for a poetry reading – that you have time and the room is very quiet. But these conditions allow for the intensities of poems to become lucid in sound and in turn the listener has the time and space to absorb the poetry, let it ring or screech in the ear without suddenly being forced to completely alter focus.
Hi Zero was brought to an abrupt halt by the Coronavirus outbreak, cutting short what would have been a full ten year series. The work, time and dedication that goes into organising a reading series like this should never be underestimated. Alongside Joe Luna's tireless curation there have been a number of collaborations. Eleanor Careless co-ran the event 2016-18. The brilliant Leon Holder was the sound engineer for the entire run. Alongside the events themselves there was a short series of magazines, an occasional publishing imprint and a collaborative series alongside Earthbound Press. Hi Zero has been an absolutely essential corner of recent UK poetry. It has been vitally formative and it has birthed the energy of many subsequent manifestations. This archive is of genuine historic importance to our poetics and culture. Let it begin again.
— Verity Spott, August 2021